42. Internationales Jugendmeeting
Also, this year, in Bonn, the last weekend in November will be dedicated to young swimmers. From 22nd to 24th November 544 swimmers out of 45 clubs from Bahrain, Belgium and Germany will meet at Frankenbad in Bonn to finish the short course season with good performances.
The new head of organisation Martin Schulze and his team have been preparing the event for weeks. Due to its age, the Frankenbad has a very special flair, and every year the organisation team faces the great challenge of creating the best possible sporting conditions. Also, in this year there will be very complex technical equipment around the swimming pool. Especially "Meeting TV" provides live video streaming of the entire event on the internet. Many coaches have been coming to Bonn for years as there is the possibility to analyse starts and turns of their swimmers with special underwater cameras.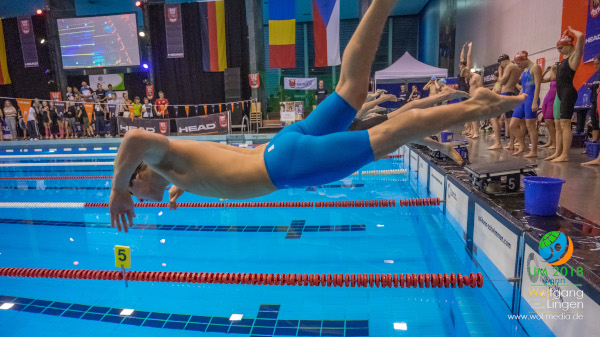 The motto "From swimmers for swimmers" has been alive in Bonn for decades and for many "regular guests" it is what makes Bonn special.
A further special feature is that the IJM is a pure youth meeting, the age groups 2008 to 1998 are eligible to start. For many young swimmers it is one of the few possibilities to be in a final run together with internationally experienced young athletes.
In 2019, the IJM will also be able to shine sporty with a few highlights:
So, Lea Boy (born 2000), the reigning world champion with the 4 x 1,25 km open water relay, of SV Würzburg has entered on six races.
Her national team colleague Josha Salchow (born 1999) of SV Nikar Heidelberg is already an old acquaintance in Bonn and will start over the butterfly races.
The women's national team from Bahrain starts for the first time in Bonn. The women's team will be trained by the former head coach of SSF Bonn Martin Grabowski.
For the swimmers from Belgium, the meeting has been an integral part of their competition calendar for years. This year there are 15 Belgian clubs with 274 athletes at the start in Bonn.
But also, the team Bonn (SG WAGO / SSF Bonn) brings a strong team to the start. 53 athletes will complete a total of 289 starts. Rebecca Dany will have the best chances for a place in the finals over the long freestyle distances as well as the 100m and 400m individual medley races. Backstroke specialist Lara Wiedemann hopes to qualify for the finals on all three tracks. Islam Elonamy is the fastest time registered on his parade course 200m butterfly. He also hopes to reach the final over half the distance. Paula Schmitz is also registered top over 200m breaststroke and over 100m breaststroke the final should be reachable for her as well. Further final participation chances go to Jannik Schüller over 50m and 100m freestyle and Mike Janott over 100m individual medley.
The schedule:
| | |
| --- | --- |
| Friday: | Prelims 13:30 - ca. 18:45 o'clock |
| Saturday: | Prelims 09:15 - ca. 15:00 o'clock |
| | Finals 16:00 - ca. 19:00 o'clock |
| Sunday: | Prelims 09:15 - ca. 15:15 o'clock |
| | Finals 16:00 - ca. 18:00 o'clock |
Ute Pilger
Published
11:38:26 19.11.2019