SSF Jugendmeeting 2018 – Something old, something new, …
Josha Salchow swims in his own universe. SG Essen convinces with a homogenous and outstanding team performance.
This year's SSF Jugendmeeting held lots of innovations in store. Not only the new logo of the event was an eyecatcher. The memorable graphics was everywhere, on every screen, paper and bathing caps and set a new, fresh course. Sports-wise, the team of SG Essen became the "new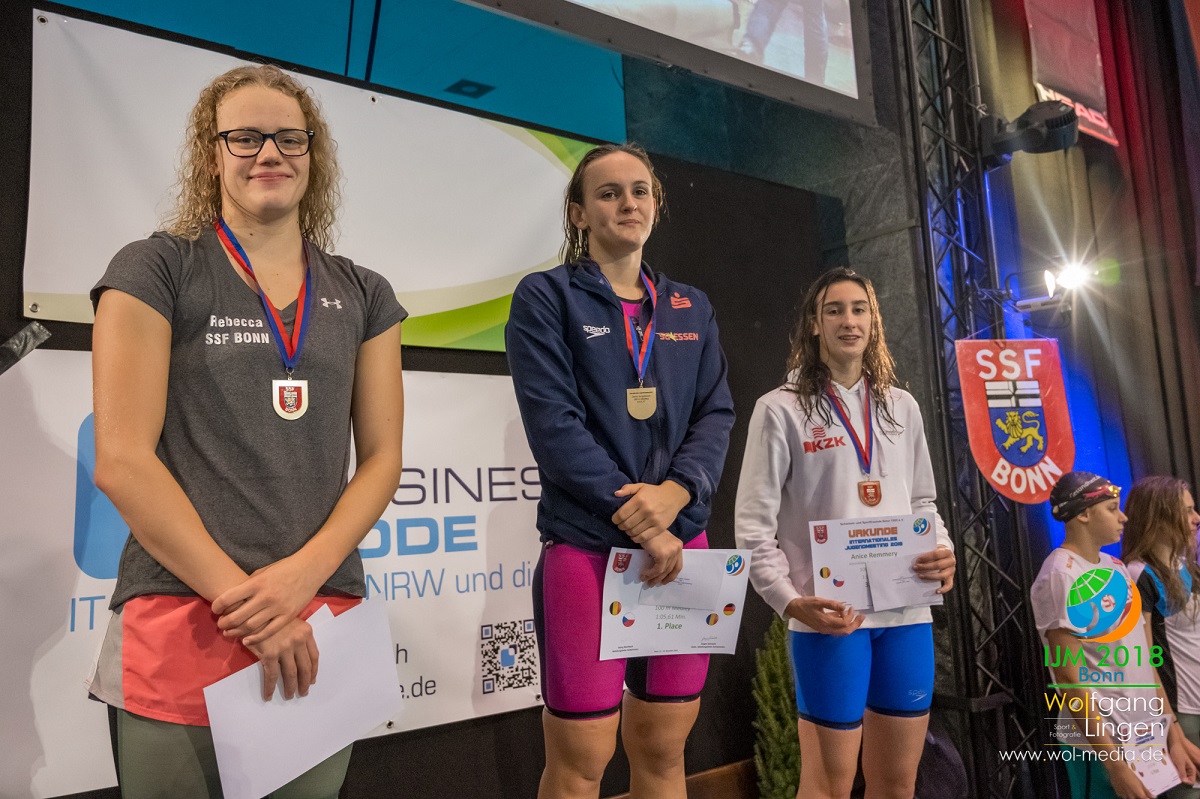 power" in Bonn's Frankenbad – and thus not due to one or two outstanding swimmers, but by showing a consistent performance throughout the whole team.
Essen's Miki van Lock was the most successful female swimmer (four victories in 50 m and 100 m backstroke, as well as 50 m and 100 m freestyle). Her three team colleagues Sophia Beckers (first in 100 m und 200 m medley and 200 m backstroke),
Delaine Goll (victorious on all three breaststroke distances) und Idil Güven (gold in 100 m and 200 m butterfly and 200 m freestyle) followed her closely on the medal path. Four female swimmers with thirteen gold medals in their pockets were something, the meeting did not see for quite some time. Andreas Rossa, with his three victories (50 m and 200 m breaststroke, 200 m medley) was a perfect fit for his female colleagues. In the end, SG Essen claimed 209 points in the team competition for themselves, and was the clear winner of the team competition, well before the Belgian teams of MEGA and KZK.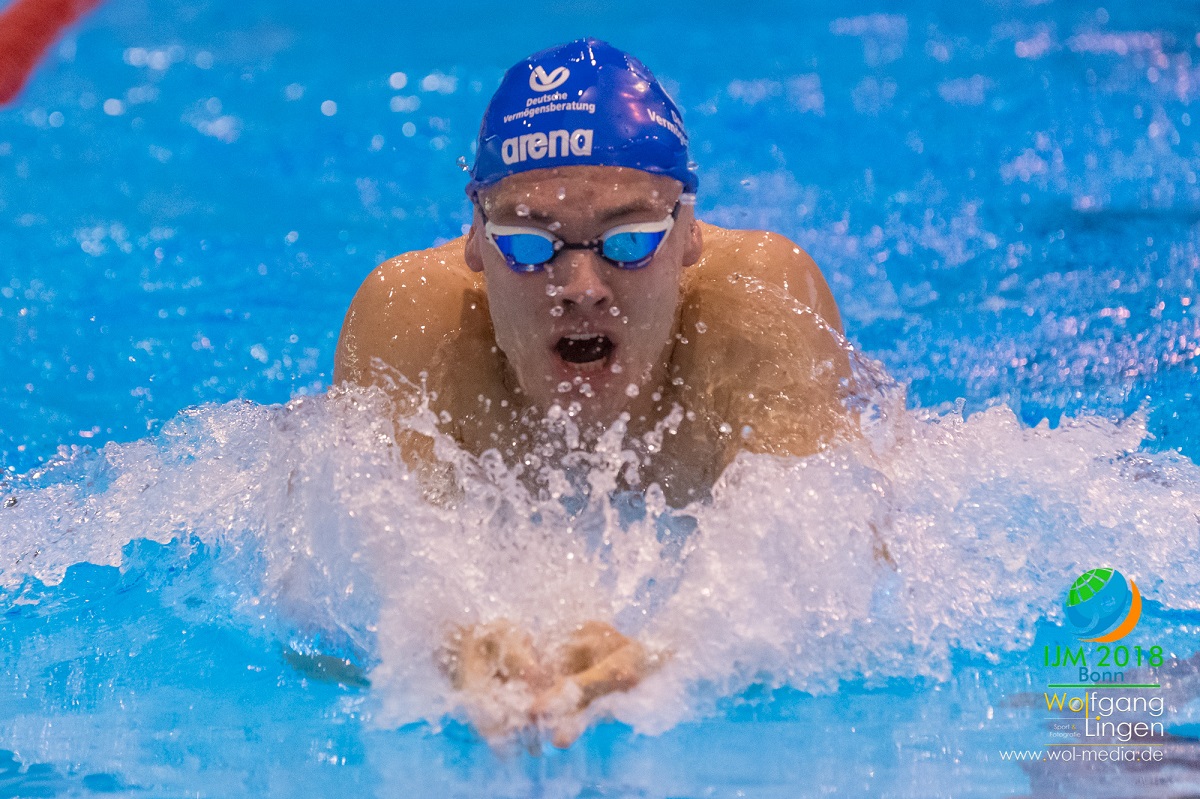 In the male competition, Josha Salchow of SV Nikar Heidelberg dominated even more than last year. Achieving eight gold medals out of eight appearances in the finals, he, as a one-man-team, managed to become fourth in the team competition. On all distances of backstroke, the 50, 100, and 200 m freestyle, and the 50 m and 100 m butterfly, the former SSF Bonn swimmer was unbeatable and, en passant, he lowered two of his own Meeting Records (100 m freestyle in 48,93 seconds and 200 m freestyle in 1:47,36 min). Even though Salchow already was last year's top performer, this year he was able to carry his success to the next level.
With Rebecca Dany, hosting SSF Bonn once more had one of the most successful medal collectors. She was able to book five silver medals to her record. Although this was one of the top performances of the meeting, she surely would have liked to have at least one golden edition in her hands. If the had been medals in the competition "spreading good mood", the teams of KZK, MEGA, and SG Rhein-Mosel would have been in a head to head race for those. Especially these teams Cheered happily and loud not only to their own fellow swimmers, but to everyone showing a good performance, also infecting other spectators to do the same.
Two German top swimmers, Dorothea Brandt and Max Pilger visited the Jungendmeeting on Sunday, and held a Q&A-session with questions collected from swimmers around the pool. The had valuable small hints and great advice in store, reaching from nutrition before and during the competition to things like career planning and what to do when the plan doesn't work like expected. This interesting exchange between athletes once more shows that the motto of the Jugendmeetin "from swimmers for swimmers" is not only lip service but living practice.
Next year's Jugendmeeting will presumably be held from November 29 to December 1, 2019.
(Uwe Klotzowski)
Published
13:40:25 26.11.2018